Contact information
TEL.

031-821-9949

10:00~17:00 Closed on weekends and holidays
individual
Group
2014
Date: May 24, 2014 (Sat)
Statistics
– Participation: 562 people
. Granfondo: 309 (Male: 292, Female: 17)
. Mediofondo: 253 (Male: 218, Female: 35)
– Completion: 476 (Completion rate: 85%)
. Granfondo: 240 (Male: 226, Female: 14)
. Mediofondo: 236 (Male: 208, Female: 28)
Summary
With the active sponsorship of GIANT Korea, the title sponsor, the event has become bigger and more systematic.
Granfondo (215km) and Mediofondo (105km) were held. Only 17 minutes after start reception by internet, the number of apply was full over. So, amount of participants was increased from 350 to 700.
Compared to other events, the difficulty of the course was high and support was smooth, the reputation of the contest became higher.
The event was sponsored by GIANT Korea, Tntn Hospital, Nanux, Welltuned, Kolon Pharmaceutical, Inje Police Station and Sangnam-myeon.
Planned by:Uhm, Ki-seok
Chief of Event: Huh, Ik-jun
Course
Granfondo:
Sangnam Sports Park – Wongdong Crossroad – Guryong pass – Seorim Crossroad – Jochim pass – Jinbang Crossroad – Hangye pass – Seorim Crossroad – Guryong pass – Wongdong Crossroad – Sangnam Sports Park (215km)
Mediofondo:
Sangnam Sports Park – Wongdong Crossroad – Guryong pass – Seorim Crossroad – Jochim pass – Jinbang Crossroad – Omije – Sangnam Sports Park (105km)
Course Map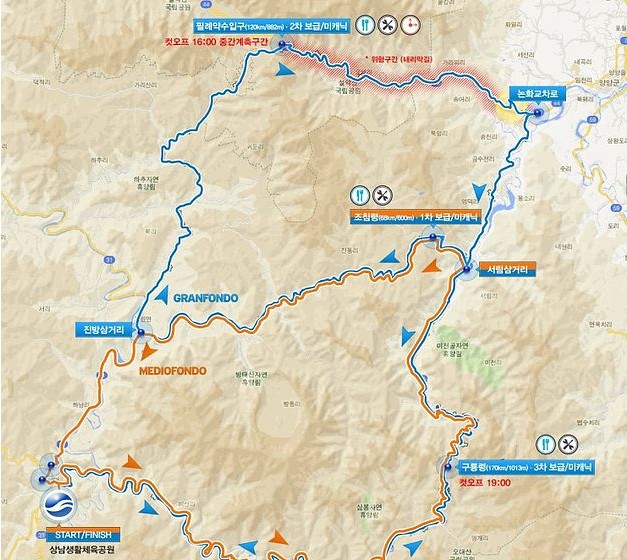 Grade map